KURT CLIFTON CEO/PRESIDENT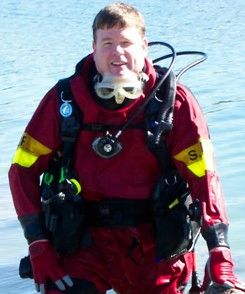 Kurt is the founder of Freedom Divers International. He has been working with disabled persons since 1996, and is a NAUI Course Director, and an Instructor Trainer for Disabled Divers International (DDI), and National Association of Scuba Educators (NASE). As well as a Mater Scuba Diver Trainer for PADI. Kurt is also the CEO/President of Clifton Diving Ventures Inc. since 1983.
KAREN CLIFTON Vice President/Director of Training
Karen has been teaching scuba diving since 1982 and is aNAUI Instructor Trainer, and a PADI Master Scuba Diver Trainer, and Instructor Trainer for Disabled Divers International (DDI), Karen is also a Nationally & State Certified Paramedic/Police Officer with Northern Illinois University Department of Public Safety.
DUKE HARRIS Secratary
Duke recently retired from the DeKalb County States Attorneys Office, where he served as the 1st Assistant in the office handling all of the Major Felonies. Duke is a NAUI Certified Rescuediver, and has been diving for 17yrs.
CLARK JOHNSON
Board Member/NAUI Instructor
Clark has been diving since 1986, and completed his NAUI Divemaster course in 2011. Clark is a Special Operations Group officer as well as a Underwater Crime Scene Investigator with the Aurora, IL Police Department.
JORDAN CLIFTON Board Member/IT Support
Jordan has been diving for over 14 years, and is the go to person for our IT support and office needs.
JAMES BROWN Board Member
James is a retired Aurora Police Officer, and is currently working for the Montgomery Police Department as their Evidence Technician. James is a Certified Underwater Crime Scene Technician, and NAUI Divemaster Candidate. James has over 22yrs experience diving.